Oil Pump Bolt Problems
There has come to light a potential problem with the oil pump sprocket securing bolt working loose on Td5 engines.
The problem was reported on the BBC's consumer affairs programme 'Watchdog' in March 2004.
At present there are no definite causes or list of affected vehicles, but it is worth being aware of the problem.
It seems that there is an assembly problem causing the bolt securing the drive sprocket on the oil pump to work loose. The bolt in highlighted in red below, is found on the left hand side of the bottom of the engine, and is accessed by removing the sump from the engine.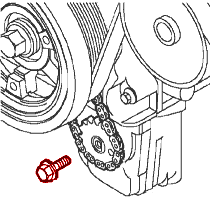 The problem symptoms are a loss of oil pressure causing the oil pressure warning light to illuminate in the instrument panel.
The engine should be switched off immediately on the warning light illuminating, as there will be no oil pressure. This is caused by the sprocket dropping off the oil pump and allows it to spin freely on the bolt.
If the engine is run without oil pressure, it is likely to seize and this will probably require a replacement engine to be fitted.
You can check the bolt by removing the sump. The oil pump is located at the front of the engine on the right hand side (looking at the top). According to the workshop manual for the Defender and Discovery Td5, the oil pump sprocket retaining bolt should have Loctite 242 applied to the threads, and tightened to 25 Nm (18 lbf.ft).
There is also an online form to fill in if you have encountered this problem
Please be aware that I do not and cannot assume any responsibility for any of the information in this article.