Oil in ECU
There is a known problem with the Td5 engine in certain Defender and Discovery vehicles up to the following VIN numbers:
Discovery XA907212 and XA222559
Defender XA173796
The problem is the engine misfiring, performing poorly or failing to start. This is due to oil contamination of the fuel injector harness and ECU plug.
To check for oil contamination, remove the engine harness at the cylinder head multiplug (left front of engine looking into engine bay - arrowed in picture below.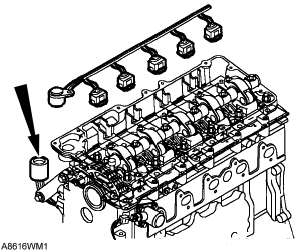 Copyright © Land Rover Limited
If oil is present, both the engine and fuel injector harnesses should be changed for newer revisions with improved sealing. The relevant part numbers are:
| | | |
| --- | --- | --- |
| Part Number | Description | Vehicle Application |
| AMR6103 | Fuel Injector Harness | All |
| YSB106901 | Engine Harness | Defender Td5 with Aircon |
| YSB106902 | Engine Harness | Defender Td5 without Aircon |
| YSB108710 | Engine Harness | Discovery Td5 |
Engine oil should be cleaned out of the ECU connectors, but the ECU should NOT be replaced.
Vehicles still under warranty should have this work carried out by their Land Rover dealer for free.
An alternative solution for vehicles out of warranty would be to remove the harnesses and improve the internal sealing with use of a high-temperature silicon sealant (or similar).
Click here for the full Land Rover Technical Bulletin issued 28th August 2000.