Special Vehicles
Land Rover Special Vehicles (LRSV) themselves are well-known for being able to produce anything, provided the money is available! The list of applications that Land Rovers have been used for is virtually endless, and the conversions carried out are often unbelievable.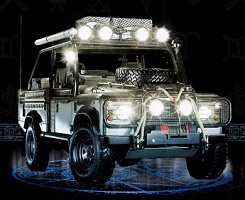 Tomb Raider Defender - built by LRSV
LRSV build all sorts of vehicles, from the Defender 130 mobile workshops used by the electricity boards, to armoured Range Rovers for royalty, politicians and celebrities, as well as the Autobiography program for the Freelander, Discovery Range Rover.
There have been many adaptations of the Land Rover for military purposes, including heavily armoured versions such as those seen in Northern Ireland, and buoyant Land Rovers.
There have also been special versions of Land Rovers for the Queen, the Pope, and many other dignitaries around the world.
There have also been some civilian and commercial adaptations of the Land Rover, such as the Cuthbertson tracked Land Rover, the Road/Rail 110 and the 110 pickup-based hydraulic lift.
Back to Land Rover Vehicles Index