Series III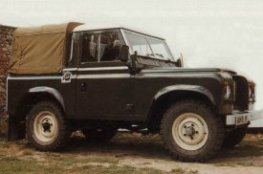 A bog-standard SIII truck cab
When the Series III was launched, Land Rover had spent so much time developing the forthcoming Range Rover that the Series III was no more than a facelift for the Series IIA. New features in the Series III were a more ergonomic dashboard layout and an ABS plastic grille to replace the wire mesh one of the later Series IIAs.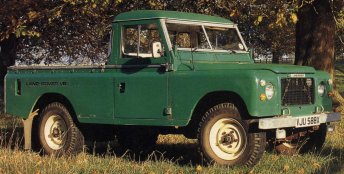 A LWB (109") Series III Stage One V8
The Series III also finally brought a full-synchromesh gearbox to the Land Rover range, which meant that the Series III started to attract more customers from traditional car-buying markets. The Series III retained the chassis and running gear from the Series IIA models. However, the 6-cylinder engine was soon replaced with the new Rover V8 engine, as fitted to the P6 and the SD1. This new 'Stage One V8' was based on the 109, but used the Range Rover running gear, with full-time four wheel drive. It was also visually modified at the front, with a new mesh grille which sat flush with the headlights on the front wings. This design has stayed on in utility Land Rovers ever since, with 2002's models still retaining the flush front grille of the Stage One V8. This style also made a comeback on the limited edition Heritage model Defenders, which had a flush metal grille.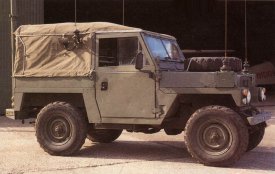 A Series III Lightweight
Land Rover also produced a 'cut-down' version of the 88" Series III, as they had with the Series IIA, called the Series III 'Lightweight'. This model was only ever destined for military use, which is proved by it's completely removable body panels, designed to reduce weight for helicopter lifts (and drops). The Lightweight found many military fans around the world, and decommissioned vehicles are very popular with civilians as fun vehicles and for daily use.
Back to Land Rover Vehicles Index