Series IIA/B Forward Control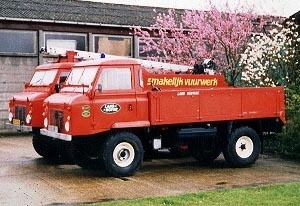 Forward Control firetenders
In 1962 Land Rover introduced a new derivative of the 109" Series IIA. Based on the same chassis, this new model had the cab above its 2.6l 6-cylinder engine to increase the loadspace, and was known as the Forward Control.
The Forward Control usually came with a dropside pick-up rear body, although a "chassis cab" version was available, and many of these were coachbuilt into fire engine tenders.
1966 saw the introduction of the Series IIB Forward Control, which had a new 110" chassis. There were also a number of improvements made to the front lights and the IIB models were fitted with anti-roll bars on the front axle to help keep the vehicle stable.
Back to Land Rover Vehicles Index