Range Rover (1970)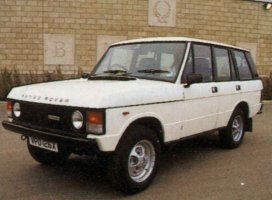 A 1981 year Range Rover
The Range Rover was launched in 1970 as a vehicle which would fill a gap in Land Rover's markets. It would be a proper off-roader, but also would be more luxurious than any 4x4 on the road. Land Rover were so afraid that their design would be stolen that they badged early testing models, built in 1969, as "VELARS", and followed them with American cars to give the impression that the prototypes were American. The Range Rover was launched with the Rover V8 engine that would find it's way into the Stage One V8 and the 101 Forward Control.
Nobody ever thought that Spen King's modern design would be so popular. In the early 1980's, Land Rover teamed up with the fashion magazine Vogue, in order to create a five-door special edition. This model was so popular that the Vogue badge became standard features on 5-door Range Rovers after the two-door had been discontinued in the UK. From the mid 1980's the Range Rover became less of a utility vehicle, and more of a luxury vehicle, driven by company executives who had once driven Jaguars and BMWs.
After the launch of the 'New' Range Rover in September 1995, the old-shape Range Rover remained in production as the Range Rover Classic until mid-1996.
Back to Land Rover Vehicles Index