Land Rover Vehicles: Prototypes
Land Rover has produced, and does produce, a great many prototypes, many of which are crushed or otherwise destroyed, but many of them are now part of the Heritage Collection at the Heritage Motor Centre at Gaydon, Warwickshire or the Dunsfold Trust.
They include the first ever "Land-Rover", the centre steer prototype based on the Willys Jeep, and the Land Rover "Middleweight", which was a vehicle halfway between a Lightweight and a Forward Control, and numerous 100-inch prototypes produced for a Swiss Army contract that never came into being.
The 100 Inch Prototypes were built in the late 1970s on modified Range Rover chassis for evaluation by Land Rover and numerous European armies, including the French and Swiss. Being based on the Range Rover, they of course had the full coil suspension that would later appear on the 90 and 110. Various body styles and engine configurations were experimented with, from 2.25l Diesel Soft Tops to 3.5l V8 Station Wagons. The project was later scrapped, and many of the prototypes were destroyed or sold on to Land Rover employees.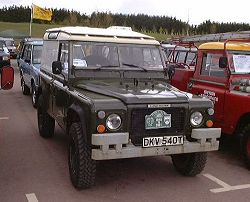 One of the 100-inch prototypes
The Llama is another interesting prototype. Designed and developed in the mid 1980s as the successor to the 101 Forward Control, a number were built for evaluation by the Ministry of Defence. The Llama used many transmission parts from the 110, including the 3.5l Rover V8. The Llama also had a very modern fibreglass cab, instead of the aluminium box cab of the 101. However, the project was cancelled, and only a few remain, with one on display at the Heritage Centre. One is also used as a 'hack' around the Heritage Centre site, and has been fitted with a 200 Tdi engine. In the past year a 'new' Llama has been built from parts left over from the official project. The Dunsfold Trust now look after the new Llama, and it makes many appearances at Land Rover events around the country.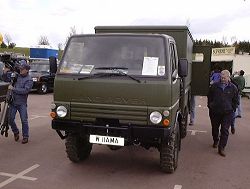 The New Llama
'Velar' was the name used on the prototype Range Rovers during 1969 and 1970. Rover decided to do this to shake off unwanted attention when testing the new car on the public roads. The prototype Range Rovers have many unique features, with some having aluminium bonnets, which were changed for steel items for the production Range Rovers.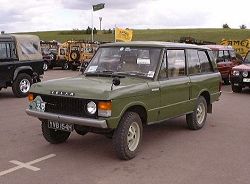 A Velar Range Rover
Back to Land Rover Vehicles Index