Freelander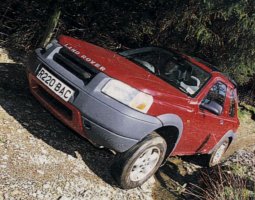 Freelander 3-door
The Freelander was launched in 1998 to fill a gap in Land Rover's market. It was to compete against the 'soft-roader' Japanese models which were smaller than the Discovery. These cheaper fashion four-wheel-drives were aimed at a younger market than the Discovery, and were more about a look than being able to perform a function. So enthusiasts feared the worst when the Freelander was unveiled in 1997.
How wrong they were. Not only was the Freelander cool, fashionable and affordable, but it had a decent off-road ability to boot. Yet again, Land Rover had proved its critics wrong.
The Freelander carried many design features of other Land Rover models, such as the clam-shell bonnet of the Range Rover, and the circular-style rear lights from the Defender models. The Freelander was voted best 'baby' 4x4 by Top Gear Magazine soon after launch, proving that Land Rover had got the Freelander formula exactly right.
The new baby Land Rover introduced the latest technologies to the Land Rover brand, with traction control and Land Rover's own Hill Descent Control (HDC) appearing first on the Freelander.
A facelift in September 2000 brought the Rover KV6 engine to the Freelander, as well as a new Steptronic automatic gearbox. The 2.0 litre Rover turbo diesel engine was replaced by the 2.0 litre BMW Td4 turbo diesel at the same time.
Four years after launch, the Freelander remains as popular as ever, and fully deserves its place in the Land Rover lineup.
Back to Land Rover Vehicles Index