Discovery (1998)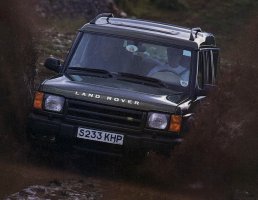 A Discovery Series II
The original Range Rover-based Discovery was replaced in 1998 with an all-new model (The "Series II"), although it looked basically the same as the outgoing model. The new model brought technologies from the Freelander, including Hill Descent Control and Traction Control, and introduced many more, like ACE (Active Cornering Enhancement), which ensured that the Discovery didn't roll in corners, and air suspension, like that seen on the Range Rover.
The Discovery II is available with the Td5 turbo diesel engine, and the ever-present Rover V8, although V8s account for only 7% of sales! It is likely that the V8 will be replaced by a Jaguar 6-cylinder engine in the third generation Discovery.
The Discovery has been facelifted again for the 2003 model year, to use Land Rover's new 'company face' as used on the 2002 Range Rover.
Back to Land Rover Vehicles Index