Discovery (1989)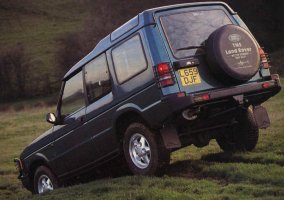 A 1993 model Discovery 3 door
The Discovery was launched in 1989 with the 3.5 litre caburetted V8 and new Tdi turbo diesel engine. It was introduced to combat the newer Japanese models that were smaller than the Range Rover but more luxurious than the 90 and 110 models.
Little more than a re-bodied Range Rover with seven-seat capability, it was developed on a (relatively) small budget - utilising Range Rover drivetrain, doors and those (infamous) Maestro van rear lights!
It was launched in three and five door variants, and the V8 was soon updated to the 3.9 EFi engine as fitted to the Range Rover.
The Discovery found its niche, and established itself as the most popular model in its class. It was facelifted in Spring 1995 with larger headlamps, and the introduction of the 300 Tdi turbo diesel engine as well as an updated interior.
Back to Land Rover Vehicles Index