90/110/Defender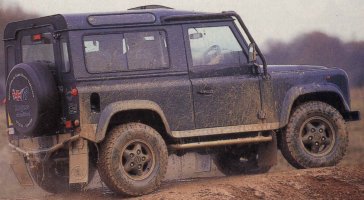 A 50th Anniversary Defender 90
The coil-sprung models include the 90, 110, 127, and Defender models. The 110 was launched in 1983 to replace the leaf-sprung Series III models launched in 1969. The Land Rover 110 (pronounced one-ten) was originally launched with the 2 1/4 litre petrol and diesel engine from the Series III, and the V8 petrol engine from the Stage One V8.
In the mid 80's, the 2 1/4 litre engines where replaced by 2 1/2 litre petrol and diesel engines, with a turbocharged diesel coming soon after. The 90 was launched in 1985 to replace the 88" Series III models. Even though the model number suggested that the wheelbase of the vehicle was 90", the real wheelbase was 92.7", as a 90" chassis had been deemed too unstable.
The 127 was launched to be used by companies who had to transport 5 people and a large amount of equipment to remote locations. This is why companies like electricity boards and forestry management companies soon snapped up the extra-long wheelbase model.
After the introduction of the Discovery in 1989, a customer survey showed that people were becoming confused between Land Rover as a product and Land Rover as a company. For that reason, Land Rover renamed the 90, 110 and 127 models as Defender 90, Defender 110 and Defender 130.
The whole current Land Rover utility range was based on Series III, in turn based on the Series II/IIA, which was itself based on the Series I. So the classic design of the Series I Land Rover still lives today in the latest Defenders of 2002. This is incredible for a company that was created merely to produce a model to get Rover through the post-war years. Even after half a century of development, the Land Rover has not lost its rugged go-anywhere appearance, and still has the ability to take its driver where others can only dream of.
Back to Land Rover Vehicles Index